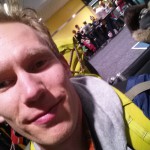 I am a user experience designer that wants to get started for real with working with service design. I have done some minor projects with a service design touch, but I wouldn't call myself a service designer just yet. My goal with attending the course Making Sense of Service Logic is to make a personal checklist of what I need to do to call myself a service designer.
I have a bachelor's degree in cognitive science and a master's degree in design, both from the University of Linköping. I currently work as a consultant at the Stockholm office of Usify. My biggest challenge in my work is that I often feel restricted in what area of thecustomer experience I am allowed to work with. Usually clients only let me work on the digital interfaces, even though I know there are so much more that makes up the total customer experience. Thus, I am interested in becoming more secure in the role as a service designer, so that I can better help my clients to offer world class service experiences. As part of this personal journey of mine I have studied Quality Management and Business Administration (marketing, management and accounting) for the last two years (50%, distance courses, undergraduate level).
My expectations on this class is quite low, as I have bad experiences from earlier distance courses. I totally agree with the teacher of this course, that it is fundamental that people get involved in discussions with each other. Unfortunately my experiences tell me that most people that take distance courses do it as something "on the side", which usually means that they do not prioritize it so much. It also seems that the participants of this kind of courses are people that have many parallell projects going on, which usually are a bit too many to actually devote themselves to all of them. There is no judgement to this statement, and it surely includes myself. Thus my main expectation is what I mentioned above, that I will get an understanding of what I need to do to get confidence enough to call myself a service designer.
A part of this confidence will come from getting more used to using social media for a professional purpose. Currently my social media experience is limited to personal use of Facebook and Instagram. Even though I do have a Twitter account, I do not use it actively. I become overwhelmed each time I try to consume tweets, and I do not have a strategy of what to write there.
Apart from design there are many things that make me happy – for example my family, my friends, travelling, playing music, talking to a cashier in the local super market, listening to music, rolling down a waterfall in a barrell, dancing, climbing, smiling to a stranger on the street, skiing, and dreaming of base jumping. And pretty much any other positive thing that you can think of. I like doing stuff!
My Twitter user name is @kjwentzel.